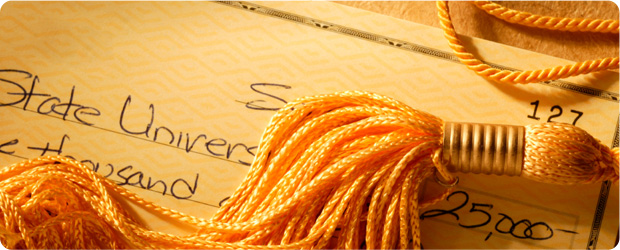 Planning Ahead
College is a big investment!  Like buying a home, paying for college could be one of the largest investments your family makes.  And, like purchasing a home, it requires a lot of planning and budgeting.  It's never too early to think about paying for college or to set up designated savings plans, some of which offer tax benefits.
One important fact to know for financial aid eligibility is that students are expected to contribute a higher percentage of their income and assets to meet college costs than are the parents.  In other words, it might not be a good idea to put savings in the name of the student for purposes of financial aid.  Details of an appropriate savings strategy are best discussed with a financial planner.
Who Is Eligible for Financial Aid?
EFC: Expected Family Contribution
There's an easy way to find out if you might be eligible for financial aid. Colleges consider the family's Expected Family Contribution, or EFC, based on the family's financial situation. Each college determines the EFC based on either the Federal Methodology or the Institutional Methodology. The two approaches consider income and assets somewhat differently. To get an estimate of your EFC using both methods, go to Tools & Calculators.  You will be asked some questions about your family and finances. The Federal Methodology asks only nine basic questions; the Institutional Methodology requires more information.
Each college is required by law to have a calculator on its website which will estimate your net price of attending that institution. (The college might customize the EFC calculation.) To get a personalized estimate of financial aid for a particular college, find the net price calculator on its website. (You might have to use the search function to find the calculator.) The output of the net price calculator will show you the institutional cost of attendance (including tuition and fees, room and board, books and supplies, and estimated personal and travel expenses), your EFC, and an estimated financial aid package including grants, work-study, and loans. The financial aid package should make up the difference between the total cost of attendance and your EFC, but this is not always the case.
Remember, the net price, like the EFC, is only an estimate.  But also remember not to eliminate colleges from consideration just because of a high "sticker price."  A school with a prohibitive cost of attendance could turn out to have an affordable net price for you.
How to Apply for Financial Aid
In order to apply for financial aid, families must fill out the Free Application for Federal Student Aid (FAFSA; Federal Methodology) and/or the CSS/Financial Aid Profile and/or college-specific financial aid applications (Institutional Methodology). There is a fee for the CSS Profile.  To complete the forms you will need your federal income tax return or estimated amounts, bank statements, and investment information.
Note: The new IRS data retrieval tool allows you to send your tax information directly from the IRS to the FAFSA. It is available one week after electronic submission or six weeks after paper submission of federal income tax returns.