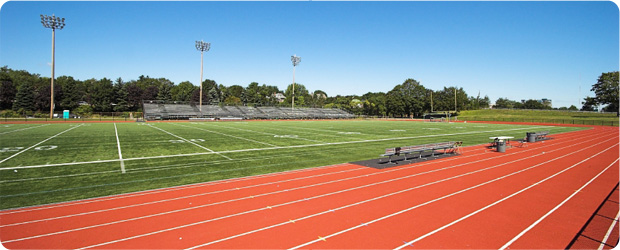 Do You Want to Play Sports in College? Here are some things you need to consider:
(This checklist is only a guide. Detailed information can be found on the NCAA Eligibility Center website.
There are many opportunities to play sports in college in addition to participating on varsity teams. Most schools have several club and /or intramural teams. The guidelines below are geared toward NCAA participation as this involves advanced planning.
 There are three Divisions of NCAA (National College Athletic Association) sports; each college determines which Division it is part of. In general, Division I is most competitive, Division III is less competitive.  Division II schools are likely to be more competitive than Division III and tend to attract students from their own geographic region, rather than from across the country and the world.
Athletic scholarships are potentially available for Divisions I and II (and not Division III).
To be eligible to compete in Division I or II sports, you must meet eligibility requirements. The detailed requirements can be found here: www.eligibilitycenter.org; click on Resources OR by calling customer service: 877 262 1492
Starting in 9th grade:
Make sure you're taking the right classes. You must take 16 core courses. Your high school has a list of its courses that have been approved by the NCAA as core courses. In general these are college prep courses in English, Math, Science and Social Studies, with specified number of courses in each subject. Your counselor can help you check the list to ensure that you are making an appropriate plan.
Keep your GPA up. Grades matter! The minimum GPA required depends on your test scores (or vice versa).  There is a table in the Eligibility Guide that indicates the minimum test score (SAT out of 1600) or ACT (total of all parts) needed for a given GPA.  (Best scores in each section from multiple testings will be considered.)
Make sure you maintain your amateur status throughout high school. (Check the rules on the Eligibility Center website. Look for information about playing on a professional team, accepting prize money and/or salary, having an agent, etc.  Some rules differ for Divisions I and II.)
In your Junior year:
Register at the NCAA eligibility center (This will cost $60 for US students, $85 for international students. Fee waivers are available.)
Have test scores reported to the Eligibility Center (code 9999) as a score recipient.
Have your transcript sent to the Eligibility Center at the conclusion of the year.
Make sure you're on track to graduate on time; take summer school classes if necessary.
In your Senior year:
Request final amateurism certification on or after April 1 (for fall enrollees) or October 1 (for spring enrollees).
Graduate from High School 🙂
Have your final transcript sent to Eligibility Center with proof of graduation
Recruitment
There are specific rules for recruitment which mostly apply to coaches and when they can contact you. They vary by Division, year in school, and sport. Check the eligibility center website.
You are allowed an unlimited number of unofficial visits to colleges (paid for by you or your parents).
You are only allowed five official visits (any visit in which some or all expenses are paid by the college).